CERAMIC WORKSHOP -10% ON EARLY BOOKINGS
ENJOY A CERAMICS WORKSHOP AT DARZAHIA AND DISCOVER TRADITIONAL MOROCCAN POTTERY-MAKING, AN ANCESTRAL KNOWHOW THAT PERPETUATES A HERITAGE OF MODEST OBJECTS WITH PURE AND VIBRANT LINES. POTTER SOPHIE-ANNE SAUVAIGO WILL SHARE HER KNOWLEDGE OF LOCAL CLAY AND ACCOMPANY WHILE YOU THROW YOUR OWN PIECES ON THE WHEEL. THE WORKSHOP WILL BE HELD IN SUMMER 2021
-10% on bookings before end of January 2021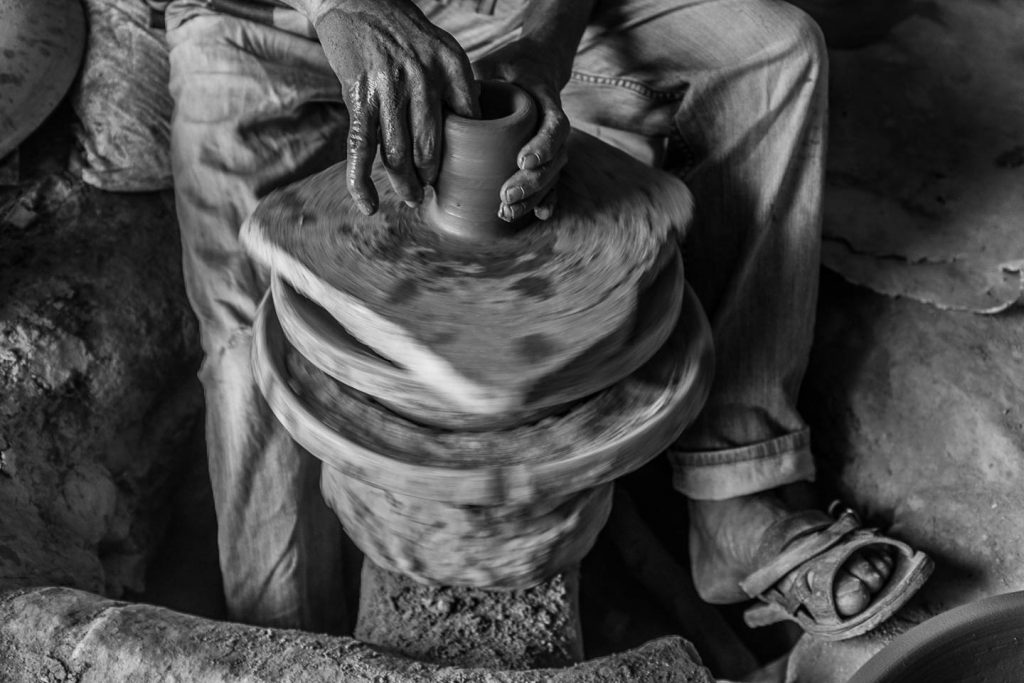 WHY COME TO DARZAHIA IN MOROCCO FOR A POTTERY WORKSHOP?
The art of firing has persisted since over 9000 years in Morocco.  A small potters village 15km from Taroudant, at the feet of the Atlas ramparts, perpetuates this tradition. It's in this charming Berber village that overlooks the Souss valley that you will work with Sophie-Anne – hosted by a family of potters who will share their knowledge with you and lend their traditional wood-burning kiln. Spending the day in the village, hands deeps in clay making pots, you will return to DarZahia and its idyllic garden where you will stay in comfort for inspiration and wonder.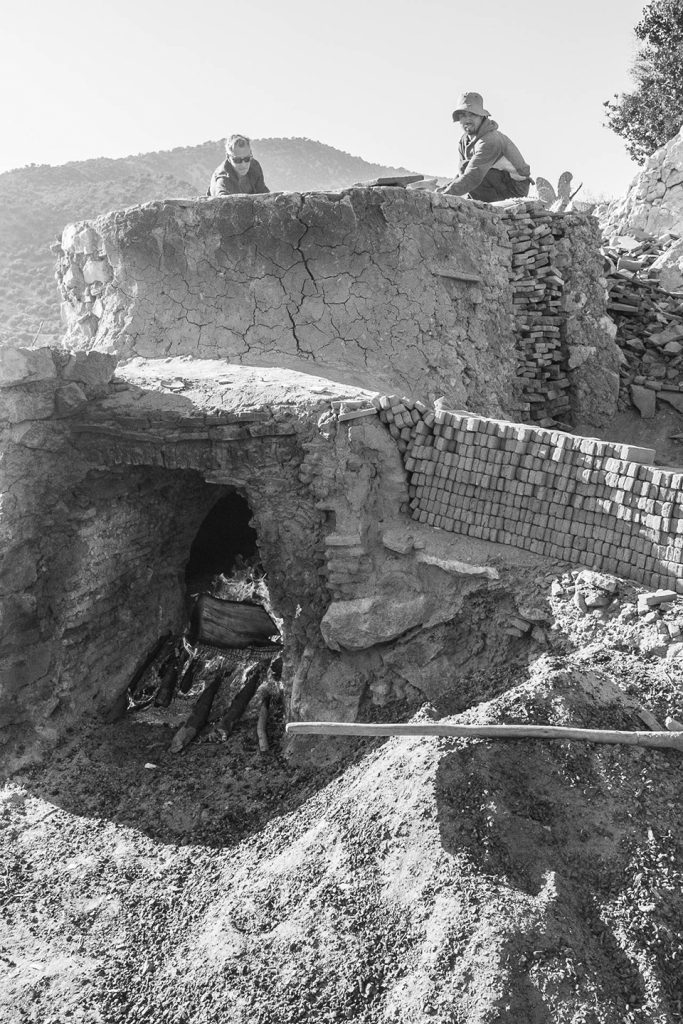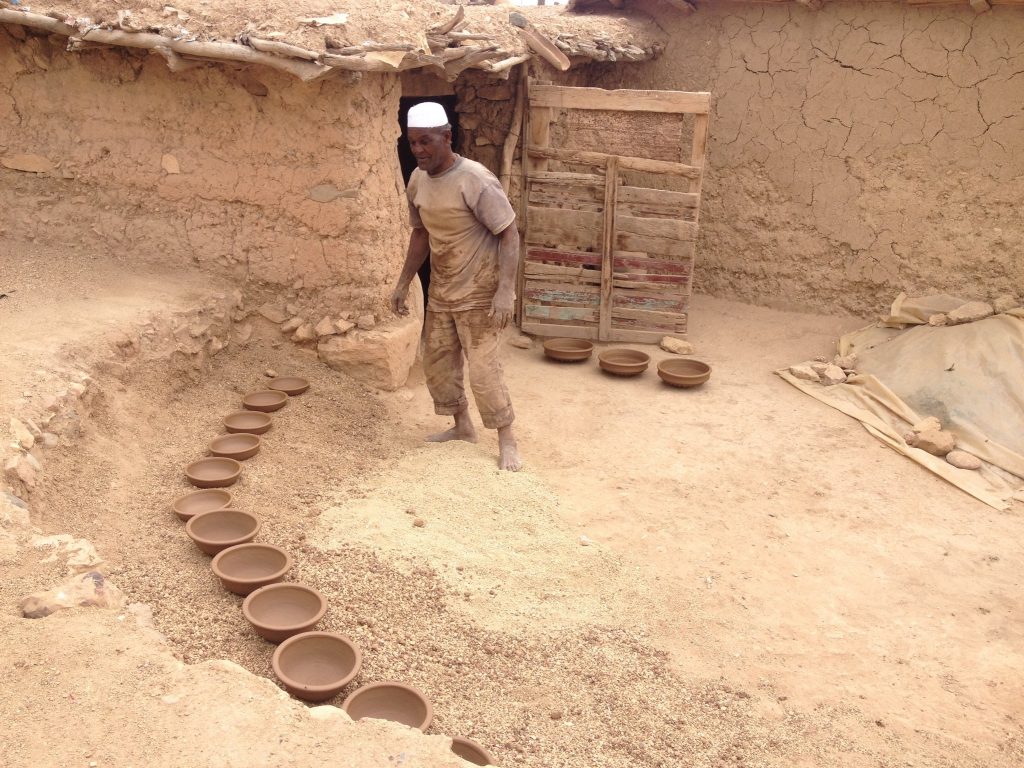 WHO IS THE WORKSHOP DESIGNED FOR,
For beginners or experienced potters, as well as those who are curious about local crafts and traditions, and those who would like to try the potter's wheel and a simple form of creativity. At the end of your stay you will be taking home the practices, clay, climate and local techniques with your kiln-fired creations.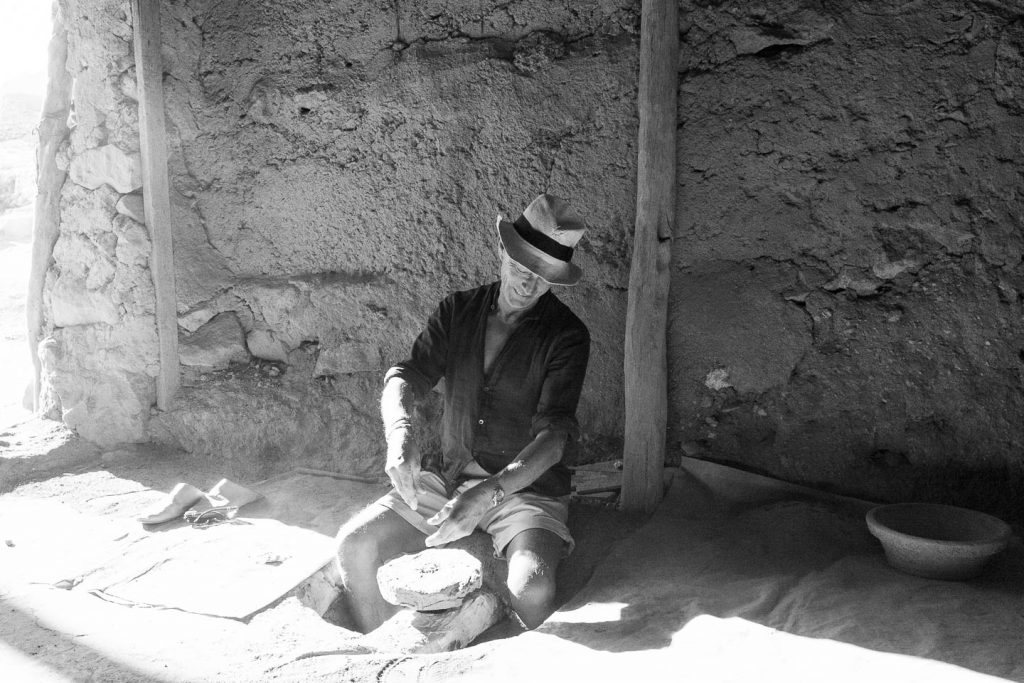 WITH WHOM?
With ceramist Sophie-Anne Sauvaigo, who holds a professional 'CAP' in ceramics. Sophie-Anne has set up her studio « La petite Maguelonne » in Touraine where she creates unique pieces or small series in porcelain and sandstone. She also teaches ceramics to adults and children.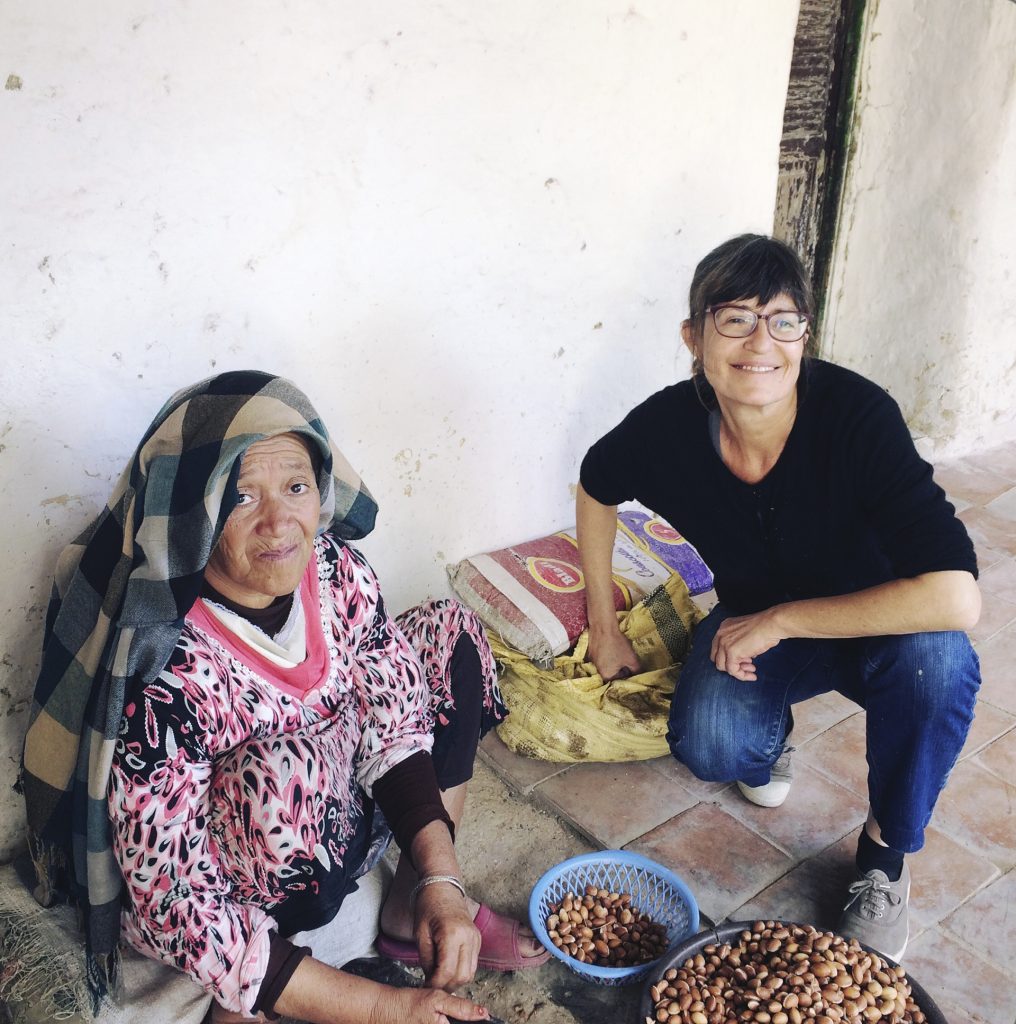 WHERE DO I LODGE?
In a luxuriant garden of 4000 m2, with a 33 meters long swimming pool, amid fields of olive trees in full nature facing the Atlas mountains. You sleep alone or together in a dream pavilion in paradise. You fall asleep by candlelight to the sound of crickets, and wake up in the light of day to the song of the lark and bulbul in the gardens.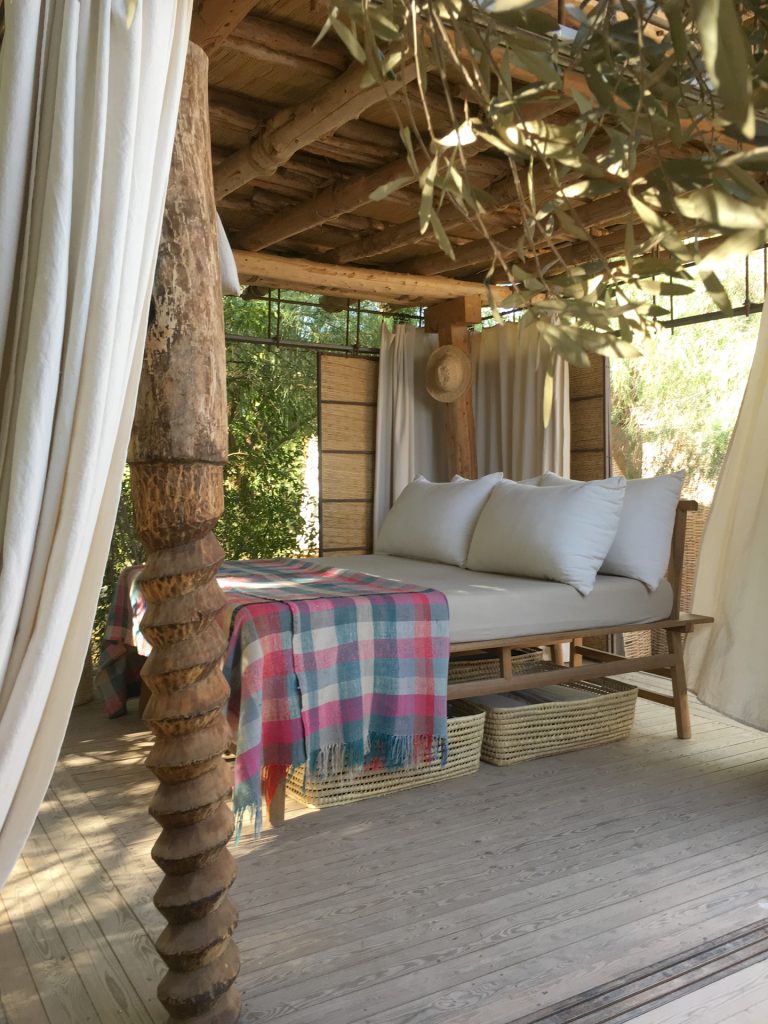 HOW WILL MY DAY BE STRUCTURED?
You participate in all the stages of making traditional Moroccan ceramics, from the search for clay in the mountains and its transport on donkey to the village, to firing in the wood-burning kiln. You prepare the clay, use the pedal wheel and learn local stamping and enameling techniques. During the drying and the firing of the works, you visit the souks, Taroudant's antiques sellers and the local ceramics museum. You lunch at home and discover the flavors of home cooking and local specialties. The rest of the time you can enjoy the Darzahia Garden, its swimming lane, and explore.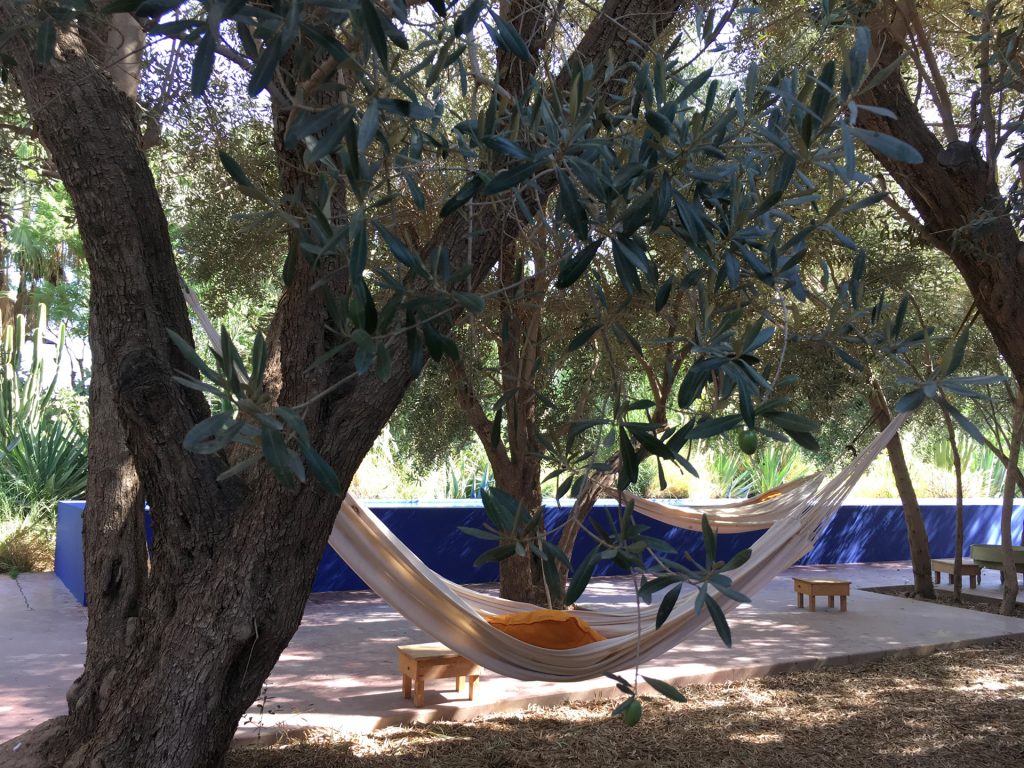 I WANT TO COME, HOW MUCH DOES IT COST ?
The 9 days and 8 nights, full board, Summer 2021, 850 euros per person for a shared room and 1050 euros solo.
---
ONLY 7 WHEELS ARE AVAILABLE IN A VILLAGE WORKSHOP. IN ORDER TO GUARANTEE THE BEST WORK CONDITIONS, THE GROUP WILL NOT EXCEED 7 PARTICIPANTS.
---
OPTIONAL ACTIVITIES
35 euros for a massage at home, 60 euros for a hammam+massage in a Spa.  Local hamam in the medina with scrubbing, 10 euros. Horse riding 15 euros per hour, or 44 euros for half a day. Bike rental, 10 euros per day, 5 euros per additional day.Taxi excursions are charged à la carte, the cost to share between participants. All activities are available by appointment and should be booked at the beginning of your stay. If you want to discover the region of Taroudant, the stay may be extended at a preferential rate.
I BOOK!
Write us at contact@darzahia-taroudant.com, we will answer you personally to confirm availability.
---
THE STAY WILL BE SUBJECT TO A SUFFICIENT NUMBER OF PARTICIPANTS
---
HOW DO I GET TO DARZAHIA?
You fly to Agadir and we will pick you up at the airport (40 euros per transfer). From there you are taken care of by our team until your return
---
A PASSPORT IS REQUIRED TO TRAVEL TO MOROCCO AND MUST BE VALID AT LEAST 90 DAYS PAST THE DATE OF EXPECTED DEPARTURE.
---
THE WORKSHOPS OF DARZAHIA
DarZahia offers various workshops in residence in its garden. Each stay is led by a professional contributor. Here are the stays for the 2019 season
Intuitive cooking stay with Carola Dœring
Gardening with Françoise Pommet
Photography with Mohammed Kilito
Cinema club with Marc Lantéri and Samuel Zlatoff
Horse riding with Elodie in partnership with la Ferme Equestre
---
For all inquiries, Contact us at contact@darzahia-taoudant.com
All rights reserved © DarZahia
www.darzahia.com
Étiquettes :
ceramique