Invitation to the opening night of our garden in Taroudant. May 10th 2017.
A GREAT OPENING NIGHT.
Zahia and me warmly invite you to join us at the Full Moon on May 10th, 2017 in our garden for the opening of its pavilions. At night, a full moon will dress the garden with a silvery mantle, and a thousand lanterns will set its evening dress alight to the music of the Chikhates and the Dakka Roudania. It will be a poetic way to wish the best augurs to the garden. We would be very happy to welcome you at the party. Book your evening now. We will help you to organize your stay in Taroudant. Useful informations for your stay in Taroudant, at the bottom of this page.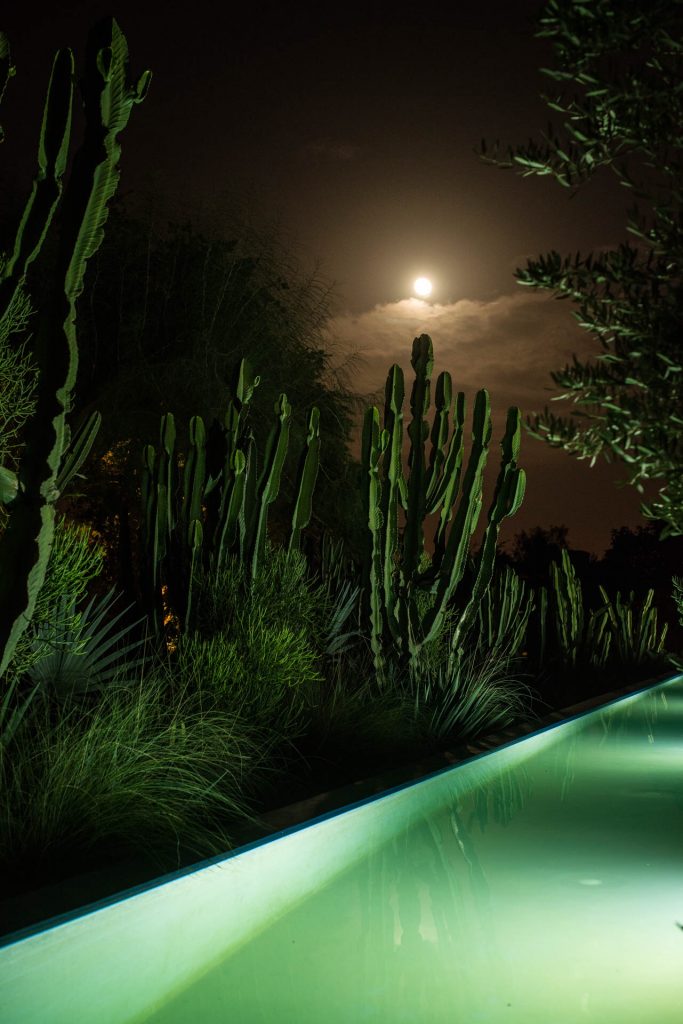 FROM AN ARID FIELD TO A EXOTIC LUSH GARDEN.
Seven years ago we decided with Zahia to buy a dry plot into an old field grown olive trees of Taroudant. The plot was hosting a puny fig tree and barely twenty olive trees dying. I dreamed for a long time to cultivate a garden, so I decided to transform the plot into a plant garden. Now it is a lush and exotic garden made up of over a hundred trees and plants of various species. Date palms, agaves, euphorbia, pomegranate trees, jacarandas, eucalyptus, callistemons, acacias, fig trees, citrus trees, to name but a few, all have been transplanted to make up the garden. All species from around the world are acclimatized and come from local farms or nurseries. Then I began to plant the big items in order to structure the garden, like palm trees and olive trees that were brought one by one by using excavators. Then came the citrus, the figs and the succulents, all transported by truck.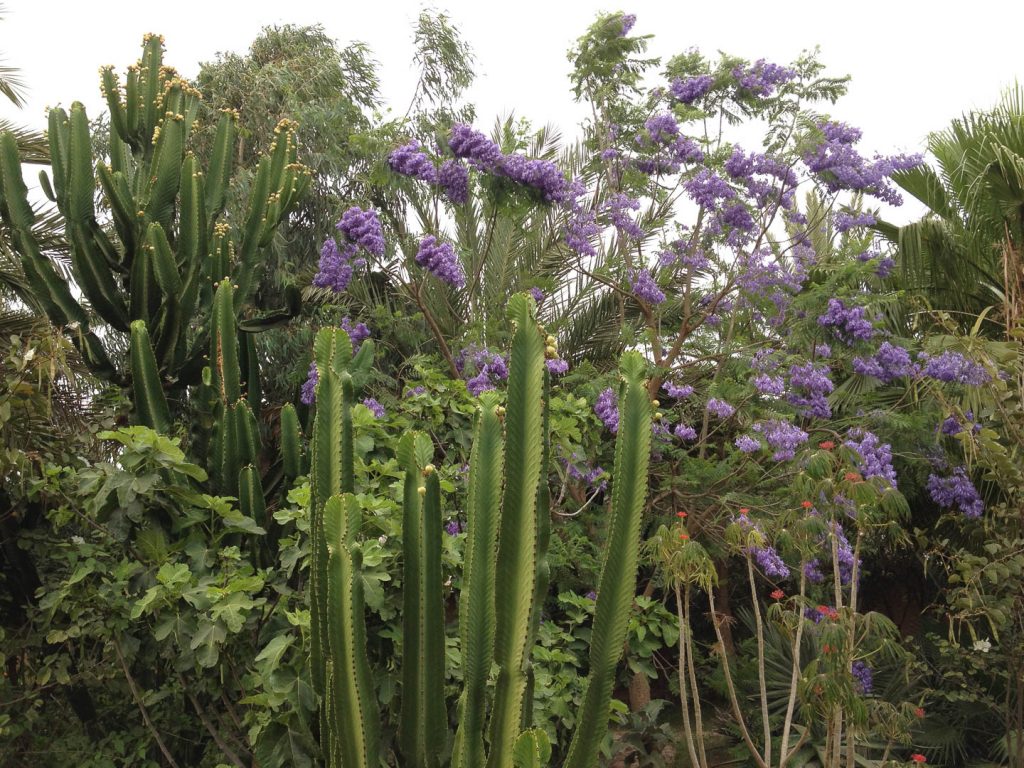 At last came the little items like grass, roses, perennial plants and climbing plants, that have completed the landscape. At first, to water it I had to dig a well, very deep down to 150 m as the plot was arid. Today the garden is irrigated by drip irrigation and micro sparys. Now the mature garden has become a bird sanctuary, home to a previously extirpated local wildlife species (Hoopoes, white-headed traps, black-headed tchagras, gray shepherds). At the end of much patience and perseverance, a wonderful garden was born. Composed of spaces, fragrances, colors and sounds, I designed this garden like an open air residence, inspired by nature. I wanted a garden, at the same time, a refuge for meditation, a place of contemplation with soothing virtues, a location of healing, a place of wonder and a laboratory of senses. This garden is a chapel of nature, a little Eden in a way.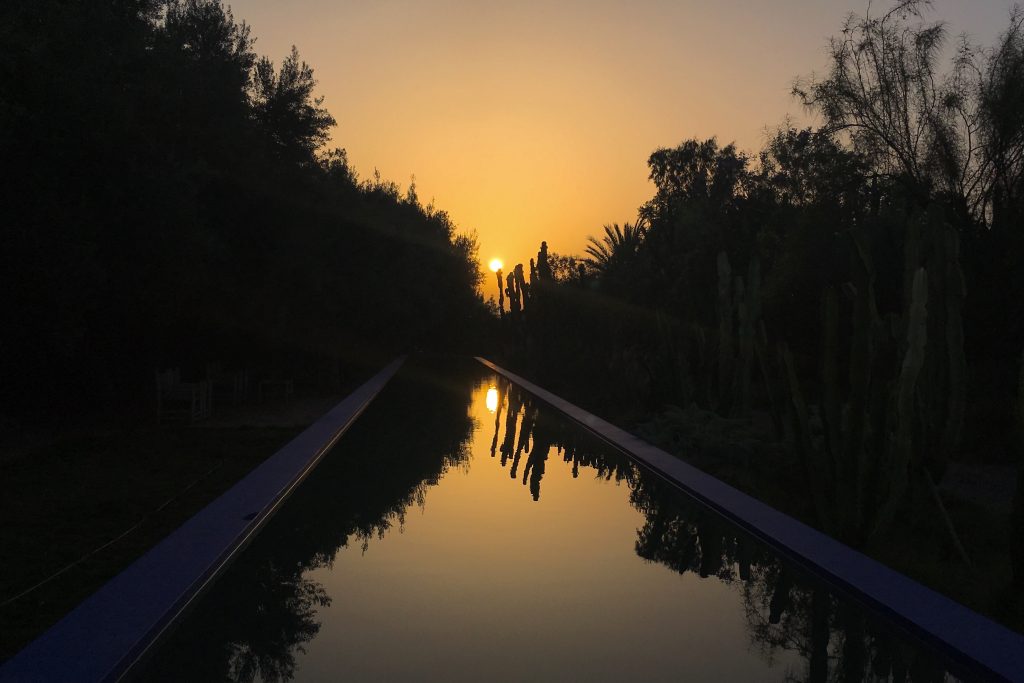 POETIC AND ENCHANTING SHELTERS TO LIVE OUT-IN A GARDEN.
The comforting and benevolent atmosphere of the garden often invites us to linger during long hours in its contemplation. Sometimes in the twilight, a magnetic light invades the garden, it is the « blue hour », when the mountains of the Atlas become blue, then comes the night that brutally falls. During these moments of contemplation, which I savored while swinging in a hammock, I wanted to stay there all night. One day I brought back a small wicker cabin which I installed at the bottom of the garden and covered it with climbing plants. The shelter offered such a delicious refuge that I often settled there to take a nap.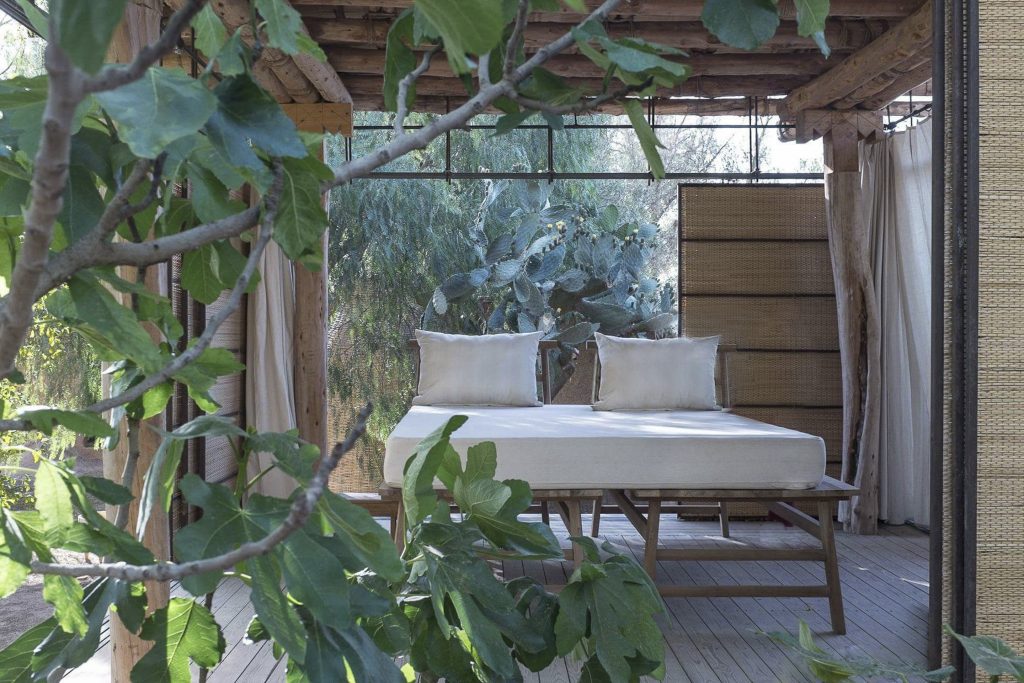 From this small garden hut will born the idea of a pavilion bigger and more comfortable to spend the night coiled in a case of greenery. I imagined then a light shelter opened on the garden. A wooden floor on stilts sheltered by a structure of cypress wood with sliding wicker partitions, a little on the model of the Japanese tea pavilions. A romantic shelter of 16 m2 to live in-out in a garden in contact with the nature. The result was poetic and enchanting. In the end, in order to benefit more than one, I decided to build five pavilions in total on the same model. Welcome to DarZahia's Pavilions for a unique experience in a garden.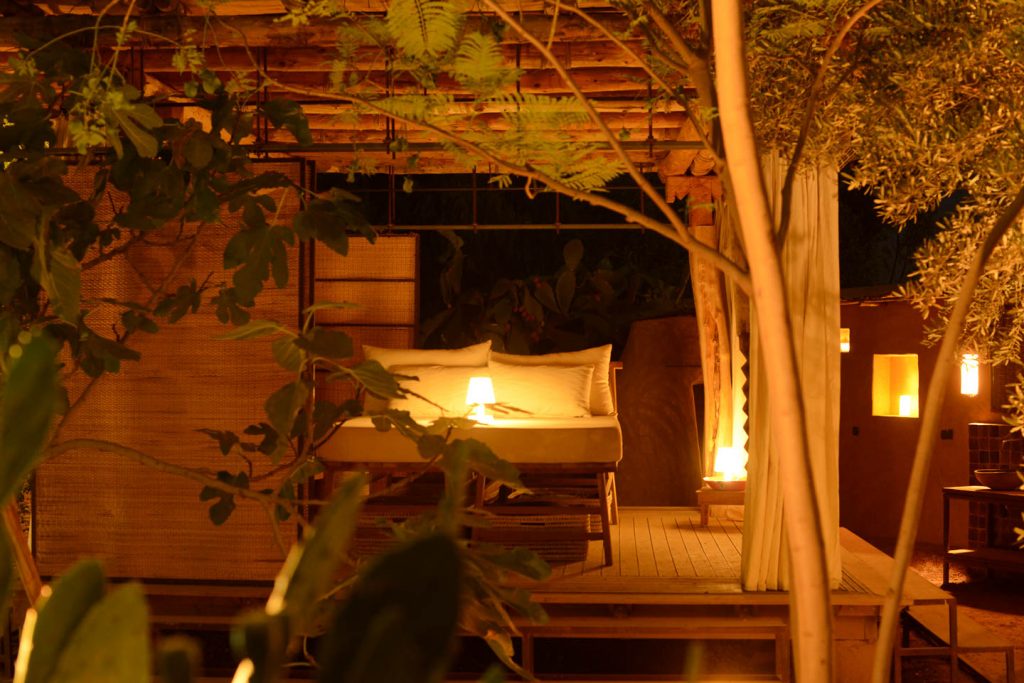 PRACTICAL INFORMATIONS
The nearby airport to Taroudant is Agadir. The main low cost airlines to fly to Agadir from Paris are Transavia, TuiFly, Royal Air Maroc. From the Agadir airport, you reach Taroudant in 45 minutes by taxi. Official taxi fare is 45 €. Please see below a selection of bed & breakfasts in Taroudant.
Dar al Hossoun
Palais Oumensour
Riad Tafilag
Dar Randigaba
Dar el Hana
Dar Igdad
Dar Zitoune
Le Jardin des Orangers
Le Palais des Sables
Dar Louisa