SÉJOUR DE CUISINE INTUITIVE À DARZAHIA / INTUITIVE COOKING STAY AT DARZAHIA
POUR LES PREMIERS JOURS DE PRINTEMPS RÉSERVEZ VOTRE SÉJOUR ATELIER CULINAIRE À DARZAHIA. NOTRE CHEF CAROLA*  VIENDRA SPÉCIALEMENT DE BERLIN À TAROUDANT POUR ANIMER UN ATELIER DE CUISINE LIBRE ET INTUITIVE.  
BOOK YOUR CULINARY WORKSHOP  STAY FOR THE FIRST DAYS OF SPRING AT DARZAHIA. OUR CHEF CAROLA* WILL COME SPECIALLY  FROM BERLIN TO TAROUDANT TO CONDUCT AN INTUITIVE COOKING WORKSHOP.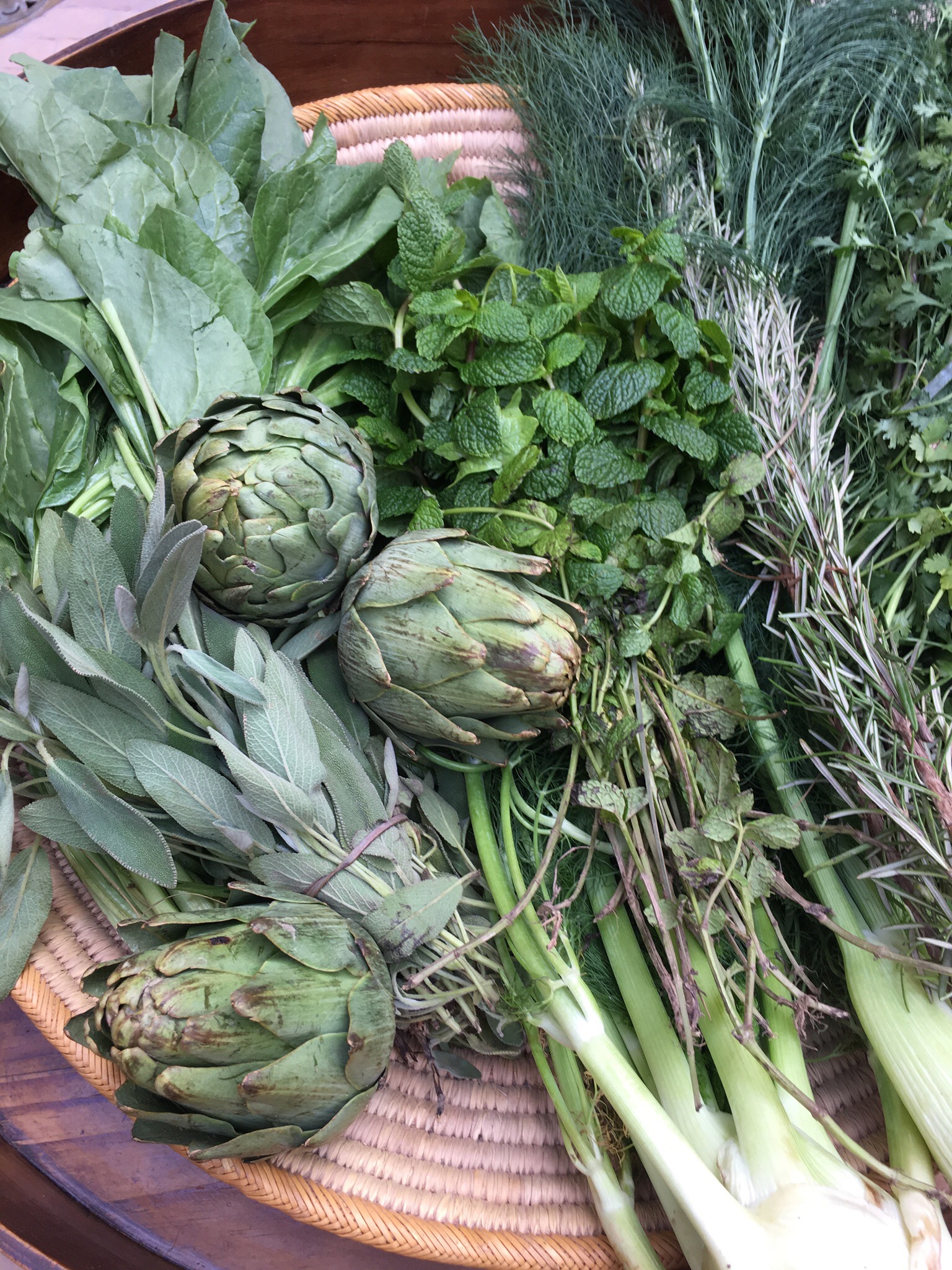 Elle vous enseignera une cuisine fondée sur le plaisir. Elle vous apprendra à maîtriser les cinq sens dans l'élaboration d'une recette et à cultiver la mémoire du goût.
She will reveal an approach to cooking based on the pleasures of culinary delights. She will teach you how to develop the mastery of the five senses in the elaboration of a recipe, to cultivate the memory of taste.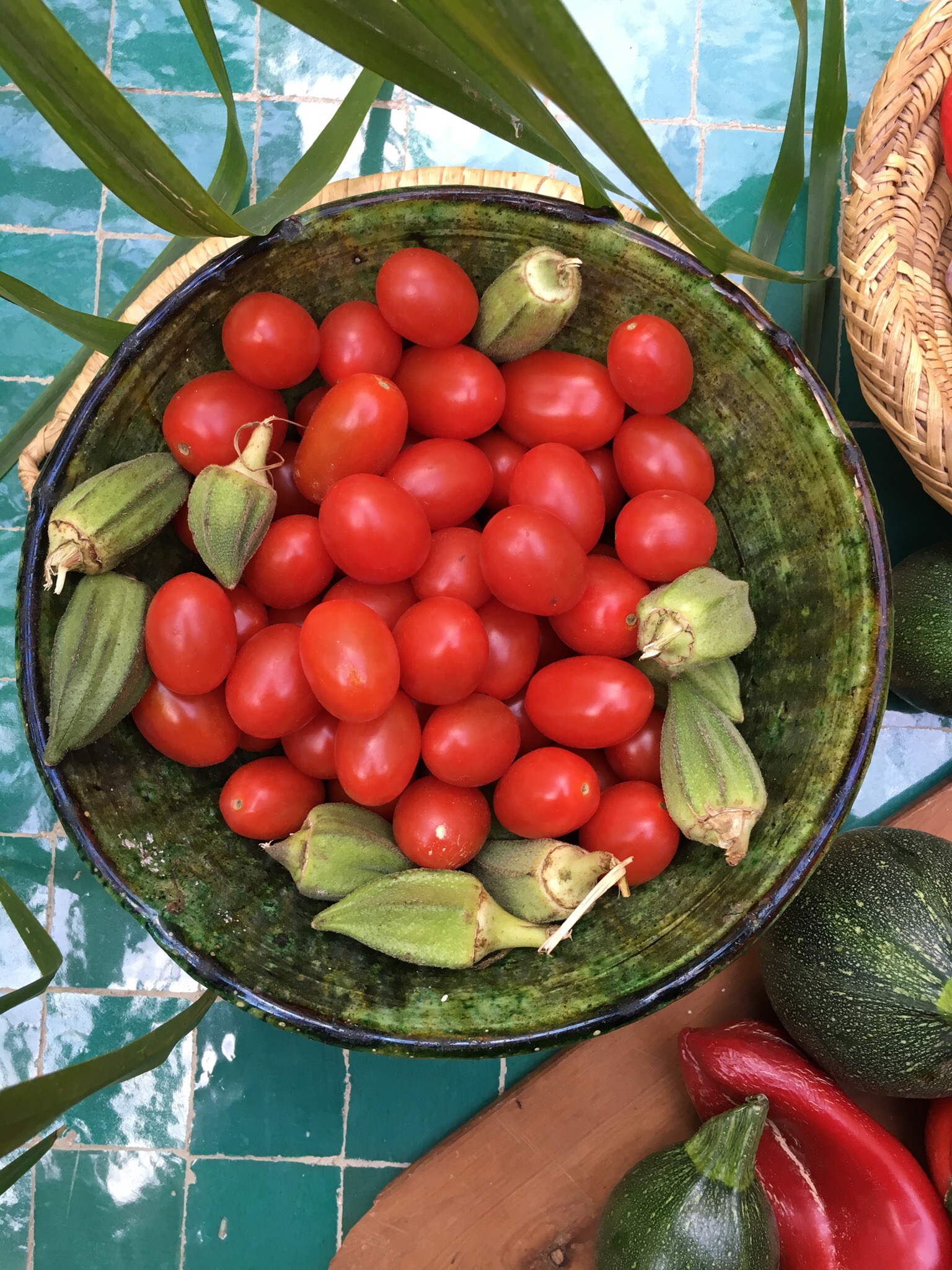 Carola vous apprendra une cuisine créative basée sur l'improvisation et comment trouver l'inspiration sur un marché de produits locaux et de saison. Avec elle vous réaliserez un voyage initiatique en parcourant les marchés de Taroudant. Du panier à l'assiette, Carola vous transmettra sa passion et son savoir faire pour une cuisine libre, nomade et multiculturelle.
Carola's creative cuisine is based on improvisation and how to find inspiration in a local and seasonal produce market. With her you will take an introductory trip through the markets of Taroudant. From basket to plate, Carola will share her passion and know-how for a free, nomadic and multicultural cuisine.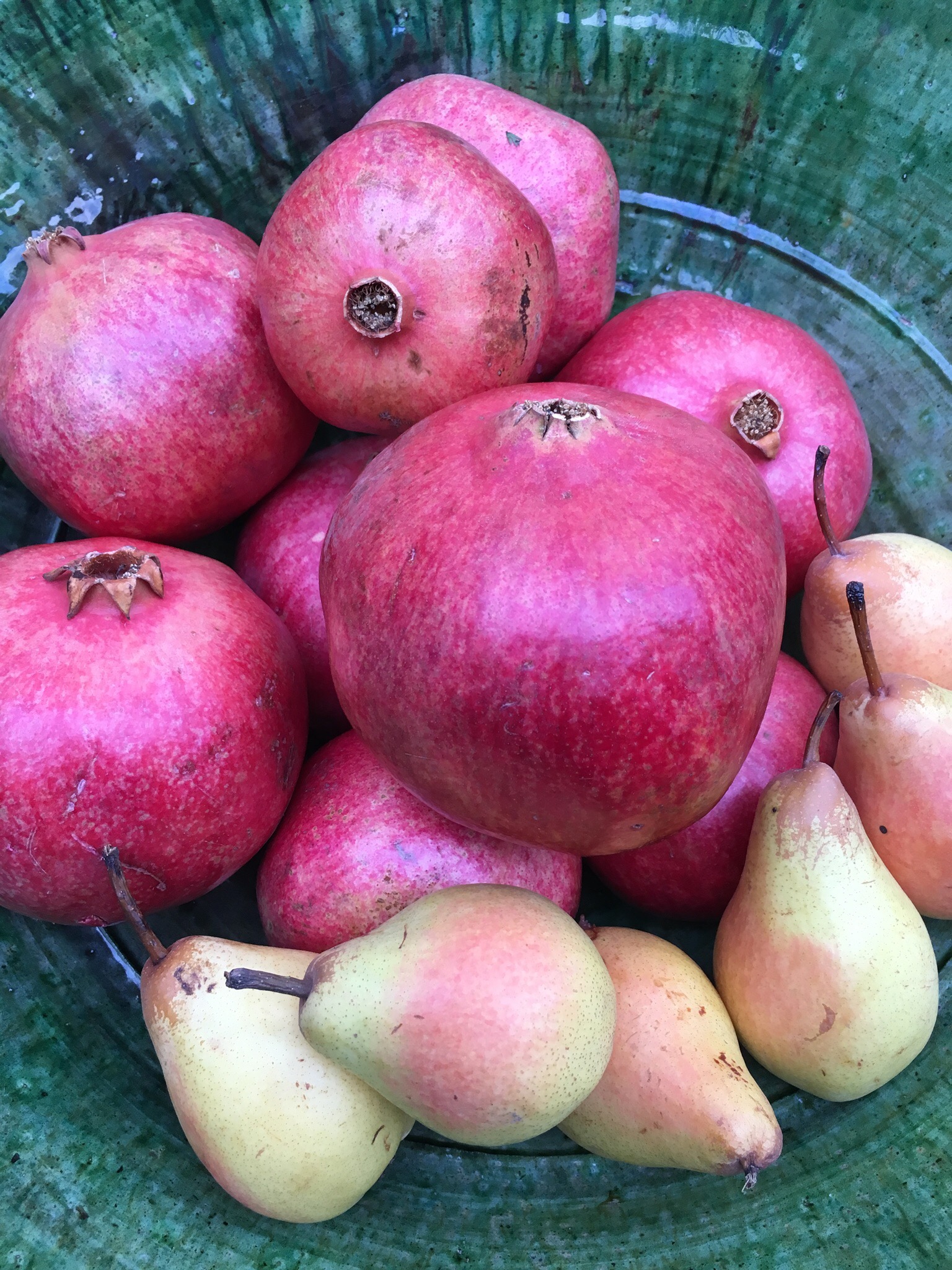 JE LOGE OÙ ?
Dans un grand et luxuriant jardin au milieu de champs d'oliviers en pleine nature face à l'Atlas. Vous dormez seul ou à deux dans un pavillon de rêve sur pilotis, vous êtes au paradis. Vous vous endormez à la lueur des bougies et au son du grillon, et vous vous réveillez à l'aube au chant de l'alouette et du bulbul des jardins.
WHERE WILL STAY?
In a large and luxuriant garden surrounded by olive tree orchards, in full nature facing the Atlas mountains. You sleep alone or together in a dream pavilion on stilts, You are in paradise, you fall asleep by the light of candles and the sound of the cricket, and you awake in the light of day to the song of the lark and the garden bulbul,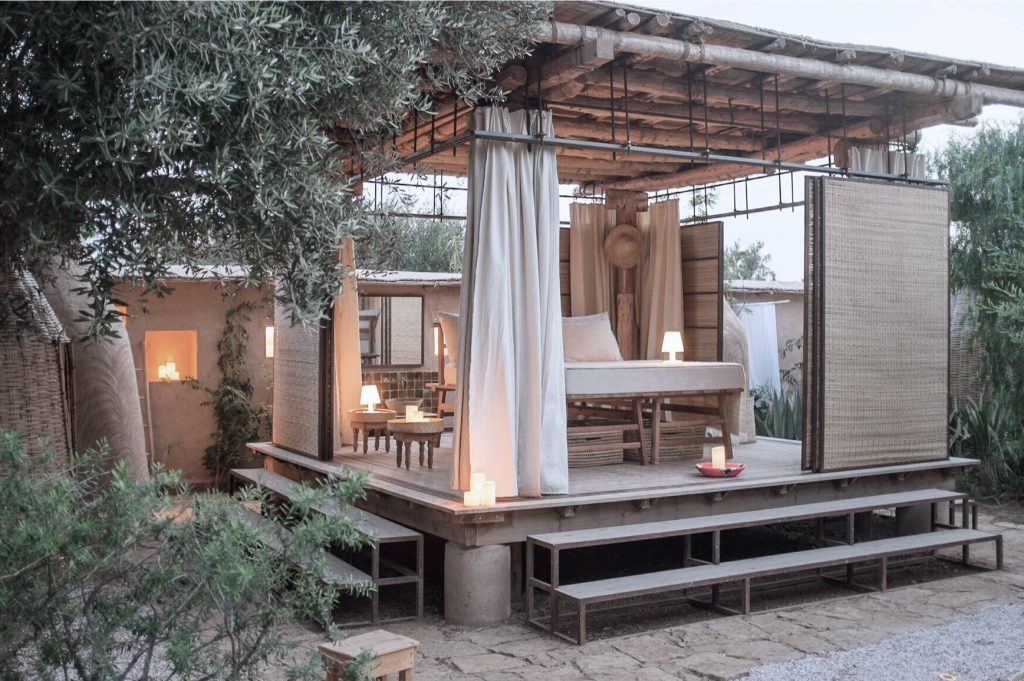 COMBIEN ÇA COÛTE  ?
Le séjour de 6 jours et 5 nuitées en pension complète du 22 au 27 mars avec 3 jours d'atelier cuisine. Pour 2 personnes en chambre double, 550 euros. 690 euros pour une personne seule en chambre single.
HOW MUCH DOES IT COST ? 
The 6 days and 5 nights at full board, from March 22sd to 27th, 550 euros per person for a double room and 690 euros per person for a single room.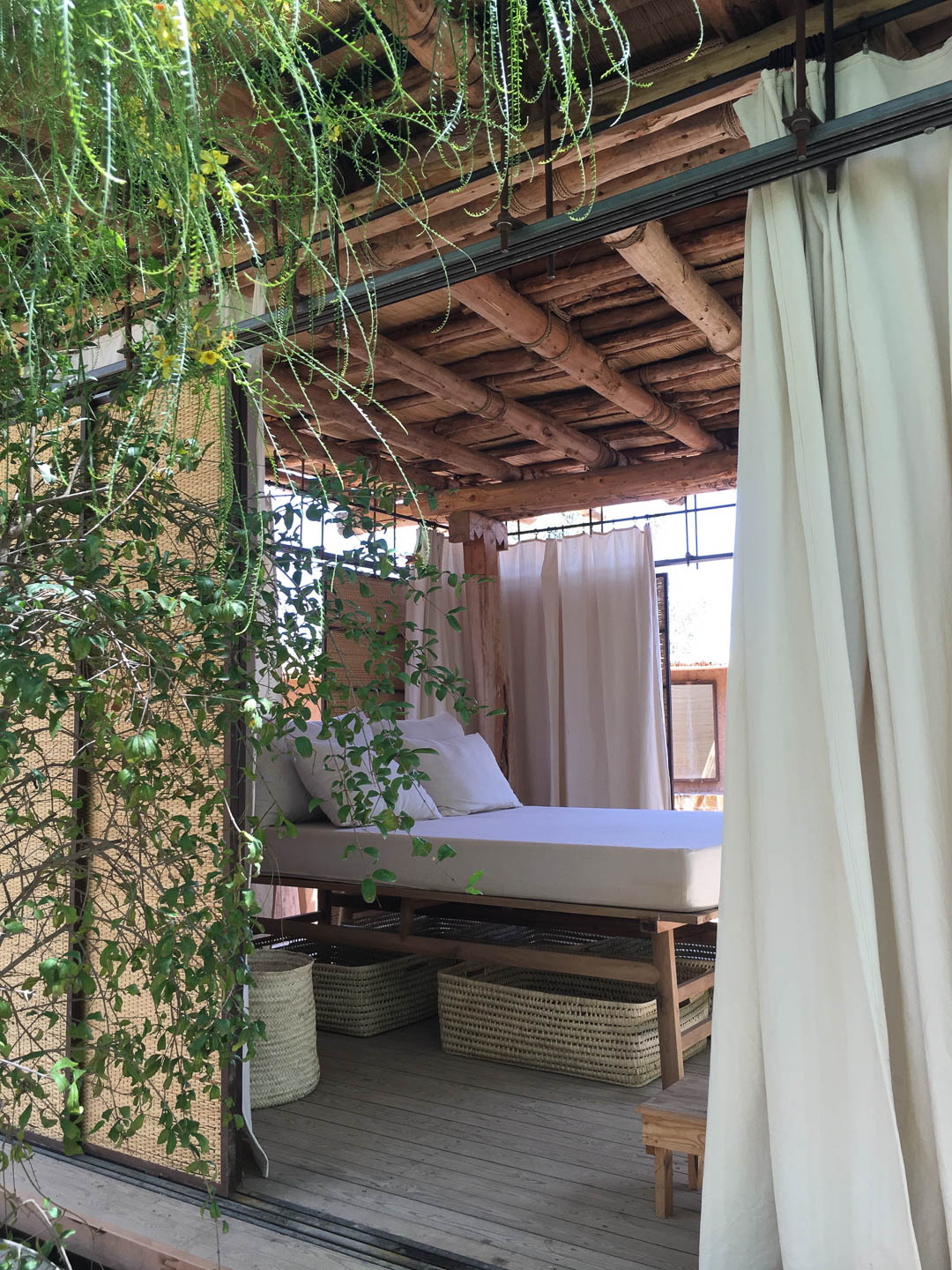 JE VEUX VENIR, COMMENT JE FAIS POUR RÉSERVER ?
Vous nous écrivez à contact@darzahia-taroudant.com, nous vous répondrons pour vous confirmer la disponibilité. / 
I WANT TO COME, HOW DO I BOOK? 
Write us at contact@darzahia-taroudant.com to reserve, we will answer you personally to confirm availability.
COMMENT JE VIENS À DARZAHIA ?
Vous prenez un billet d'avion pour Agadir et un taxi viendra vous chercher à l'aéroport (35€ par transfert). À partir de là vous êtes pris en charge par nos équipes jusqu'à votre retour.
HOW DO I COME TO DARZAHIA? 
Fly to Agadir and a taxi will pick you up at the airport (35 euros per transfer). From there you are taken care of by our team until your return.
---
*CAROLA DOERING
Née en 1961 Carola grandit à Düsseldorf. Elle fait des études d'architecture à Berlin, où elle habite jusqu'à aujourd'hui. Elle travaille pour un grand studio d'architecture jusqu'en 2014. Cette année là elle décide d'abandonner l'architecture pour le secteur alimentaire. Elle fonde avec une associée le « Bellwinkel », un concept-store-épicerie qui propose des produits régionaux et une cuisine méditerranéenne et orientale. Issue d'une famille de gastronomes qui voue une passion pour la cuisine, Carola a toujours cuisiné depuis son plus jeune age. Pendant plus de 20 ans  elle fait des séjours chaque année sur la Côte d'Azur où elle découvre la cuisine française et méditerranéenne. Plusieurs séjours au Maroc, en Inde et dans les pays asiatiques vont déterminer sa passion pour la cuisine exotique. Ce sont les marchés de ces pays qui inspirent chaque jour un plus Carola à inventer de nouvelles recettes. 
*CAROLA DOERING
Born in 1961, Carola grew up in Düsseldorf. She studied architecture in Berlin, where she lives today. Working for years at a large architecture studio, she decided in 2014 to abandon architecture for the food sector. Together with a partner she founded the « Bellwinkel », a concept store/grocery store that offers regional products, Mediterranean and oriental cuisine. Coming from a family of gourmets who have a passion for cooking, Carola has been in the kitchen since a young age, blending culinary influences. For more than 20 years she made an annual trip to the Côte d'Azur, where she discovered French and Mediterranean cuisine. Several trips to Morocco, India and Asian countries  determined her passion for exotic cuisine. Markets in these countries inspire Carola every day to invent new recipes. 
© Marc Belli. DarZahia. Taroudant. Maroc. All rights reserved. 2017.